09-07-2020 | Issue 8/2020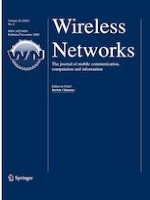 Scheduling and resources allocation in network traffic using multiobjective, multiuser joint traffic engineering
Journal:
Authors:

Ghazanfar Latif, N. Saravanakumar, Jaafar Alghazo, P. Bhuvaneswari, K. Shankar, Muhammad O. Butt
Important notes
Publisher's Note
Springer Nature remains neutral with regard to jurisdictional claims in published maps and institutional affiliations.
Abstract
Reciprocal optimality is a desirable characteristic from the end user perspective, for both Best Effort and Quality of Service (QoS) datagrams delivery within a network. A cohesive solution to such issues is the expected outcome of this work. It is also aimed to formulate and evaluate enhanced scheduling algorithm for packets delivery, focusing on maximal user satisfaction and minimal networking operation costs. Mathematical optimization techniques have been applied to Application, Transport and Network layers of Open System Interconnection model. Novel elucidation of optimal packets switching, traffic engineering, congestion avoidance and QoS improvements are discussed. A simplified routing mechanism is devised, along with the formulation and analysis of nonlinear constrained Multiobjective, multiuser joint traffic engineering case. This approach would be useful for networking and digital communication domains.