01-06-2015 | LIFE CYCLE MANAGEMENT | Issue 6/2015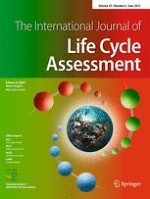 Scoping organizational LCA—challenges and solutions
Authors:

Julia Martínez-Blanco, Atsushi Inaba, Matthias Finkbeiner
Important notes
Responsible editor: Thomas Swarr
Abstract
Purpose
Although the largely used life cycle assessment (LCA) was initially targeted for products, it can also be adapted to the organizational level. The resulting methodology is the so-called organizational LCA (O-LCA), introduced by ISO/TS 14072 and being developed by several initiatives. O-LCA's object of study is the organization and its value chain; it adopts a life cycle approach and assesses a multi-set of environmental impacts. This paper introduces the methodological framework of O-LCA to researchers and practitioners and focuses particularly on the scoping phase.
Methods
Here, we discuss the solutions adopted for each identified challenge when accommodating product LCA to organizations. Those critical elements are analyzed and contrasted with main baseline initiatives: primarily product LCA standards and also Organisation Environmental Footprint and GHG Protocol. Additionally, small deviations from ISO/TS 14072 that are proposed by the authors are pointed out and explained. An example was made up to illustrate and support the explanations.
Results and discussion
O-LCA also follows a four-phase approach, including goal and scope definition, inventory, impact assessment, and interpretation. Although product and O-LCA are comparable, main differences are mostly at the scope level, which is very relevant for the subsequent phases of O-LCA. Function is the main basis for the definition of the unit of analysis in product LCA, while in O-LCA, are the organization and its portfolio, which is unique for each organization. The reporting organization should be described in terms of subject of study, sites that are to be partially or totally considered, and period when the organization is depicted. Finally, as in product LCA, the boundary of the studied system is defined that includes direct and indirect activities along the value chain of the organization.
Conclusions
Most principles, requirements, and guidelines of product LCA apply for O-LCA, and the major identified differences are at the unit of analysis and boundary definition level. A cross-divergence that affects the perspective of the two methods is that O-LCA is not foreseen for comparative assertions intended to be disclosed to the public.