Published in: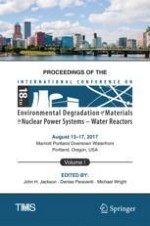 2018 | OriginalPaper | Chapter
Scoring Process for Evaluating Laboratory PWSCC Crack Growth Rate Data of Thick-Wall Alloy 690 Wrought Material and Alloy 52, 152, and Variant Weld Material
Due to the widespread use of thick-wall Alloy 690 and its corresponding weld metals Alloys 52 and 152 in various replacement, repair, mitigation, and new plant pressurized water reactor (PWR) applications, there is an industry need for an equation or methodology to predict crack growth rates (CGRs) for primary water stress corrosion cracking (PWSCC) of these materials. An international PWSCC CGR Expert Panel was organized by EPRI, with the participation of national laboratories sponsored by the US NRC, to support the development of such PWSCC CGR equations. A database of over 500 Alloy 690 CGR data points and over 130 Alloy 52/152 CGR data points from seven research laboratories was compiled, evaluated and scored for data quality, and assessed to determine the effects of numerous parameters such as temperature, crack-tip stress intensity factor, yield strength, and crack orientation. The process by which these data were evaluated and scored is presented in this paper.