16-07-2021 | Issue 3/2021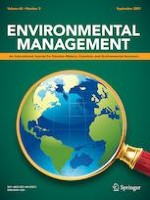 Screening and Seasonal Behavior of Analgesics, Non-steroidal Anti-inflammatory Drugs, and Antibiotics in Two Urban Wastewater Treatment Plants
Journal:
Authors:

João Aleixo Rodrigues, Sofia Silva, Vítor Vale Cardoso, Maria João Benoliel, Eugénia Cardoso, Maria Rosário Coelho, António Martins, Cristina Maria Martins Almeida
Important notes
Supplementary information
Publisher's note
Springer Nature remains neutral with regard to jurisdictional claims in published maps and institutional affiliations.
Abstract
Pharmaceutical active compounds (PhACs) belonging to analgesics, antibiotics, and non-steroidal anti-inflammatory drugs (NSAIDs) therapeutic classes were monitored in wastewater influents and effluents from two Portuguese urban wastewater treatment plants (UWWTPs) for 24 months. Both facilities were chosen due to their effluents are discharged in highly touristic and sensitive areas, Tagus river and Ria Formosa coastal lagoon, respectively. Target PhACs, acetaminophen, diclofenac, ibuprofen, naproxen, sulfadiazine, and sulfamethoxazole were measured using solid-phase extraction (SPE) coupled to liquid chromatography tandem mass spectrometry (LC-MS/MS). PhACs occurrence in the influents was higher than 98%, with acetaminophen presenting the highest concentrations, with values between 16.3 µg/L and 124 µg/L. In the effluents, distinct behavior was observed with diclofenac and sulfamethoxazole showing recalcitrant characteristics, whereas acetaminophen, ibuprofen, and naproxen showed removal efficiencies above 95%. Acetaminophen and ibuprofen amount in influents showed consistently higher concentration levels in autumn (in Beirolas and Faro Nw UWWTPs) and winter (only in Beirolas UWWTP) seasons. These seasonal trends were observed to a greater extent in Beirolas UWWTP than in Faro Nw UWWTP. This study enabled the comprehensive definition of a behavior pattern for these target contaminants, contributing to better characterization and build-up a library of PhACs occurrence. It also allowed a robust seasonal profiling of the target compounds due to the high number of samples analyzed by each season and a longer monitoring campaign, making the obtained results more significant.