28-10-2018 | Issue 3/2020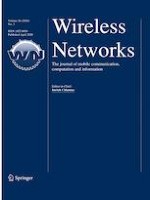 Secure wireless multicasting through AF-cooperative networks with best-relay selection over generalized fading channels
Journal:
Authors:

Dilip Kumar Sarker, Md. Zahurul Islam Sarkar, Md. Shamim Anower
Abstract
We consider a secure wireless multicasting scenario over Generalized
\(\kappa -\mu\)
fading channels via multiple amplify-and-forward cooperative relays. In the first hop, a source
S
transmits a common stream of information to a group of
K
relays. In the second hop, the best relay which has the highest signal-to-noise ratio, forwards the amplified version of information to a group of
M
destination users in the presence of multiple eavesdroppers. We assume that there is no direct link between source and destination users as well as eavesdroppers. Destinations and eavesdroppers are communicating with the source via relays only. The key contribution of this paper is to enhance the security of wireless multicasting using the additional diversity provided by the best relay of
K
relays. In order to investigate the performance of the proposed model, we derive the analytical expressions for the probability of non-zero secrecy multicast capacity and the secure outage probability in terms of the number of relays, destination users and eavesdroppers. Finally, the analytical expressions are verified via Monte Carlo simulation.