01-06-2021 | Original Article | Issue 3/2021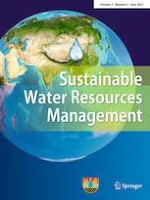 Sedimentological responses to coastal dynamics along the Thane District, North Maharashtra, West Coast of India
Authors:

Sridhar D. Iyer, A. R. Gujar, V. Sanil Kumar, D. K. Naik, S. S. Gaonkar, Sandhya Naik, Pooja Shirodkar, F. Badesab, R. A. A. Luis
Important notes
Formerly with CSIR-NIO, Goa: Sridhar D. Iyer, A. R. Gujar, S. S. Gaonkar, Sandhya Naik, Pooja Shirodkar, R. A. A. Luis.
Publisher's Note
Springer Nature remains neutral with regard to jurisdictional claims in published maps and institutional affiliations.
Abstract
We present the results of sedimentological responses to coastal dynamics of the Arnala beach, located between Vaitarna and Ulhas rivers, Thane district, Maharashtra, India. The coast is remarkably flat and wide and in the backshore, there is a semi-consolidated raised beach. Granulometric and mineralogical investigations and CaCO3 measurements of the sediments were carried out to understand their variations. The CaCO3 contents in the sediments from raised beach, sub-surface and sand pits vary between < 1 and 20%. The medium-very fine sands are moderately well sorted–very well sorted, symmetrical, very platy- to meso-kurtic and mostly uni- or bi-modal. Heavy minerals (av 39 wt%) are magnetite (av 17 wt%), ilmenite (av 15 wt%) and non-magnetic (av 7 wt%) fractions. The sediments are derived from weathered Deccan Trap basalts that occur in nearby hillocks, as shore platform and along the Vaitarna River. These sediments are mainly transported and redistributed by littoral currents. In nearshore waters, annual average wave height is ~ 0.8 m and gross littoral drift is 0.132 × 106 m3. Similarity in sediment parameters and mineralogy along the more than 20-km-long and 400-m-wide coast indicates prevalence of uniform oceanographic processes in a littoral cell along the coast. Significant variability in volumes of sediment accretion/erosion is noticeable.