2020 | OriginalPaper | Chapter
3. Seeing Is Believing: The Disruptive Effect of Sustainable and Functional Product Design in Electric Bikes for Emerging Economies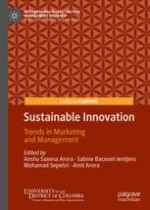 Read first chapter
Authors: Delonte D. Bright, Edna Laetitia Aude Diouf Ogandaga, Anshu Saxena Arora
Publisher: Springer International Publishing
Abstract
The bicycle industry has improved over the years. Manufacturers have created different types of new bikes such as the Juliet bike for women and the Revive E-bike. Sustainability and convenience are key in a world where innovations benefit not only consumers, but also the economy and the world. Product design is the detailed specification of a manufactured item's parts and how the item will perform its intended functionality in an efficient, safe, and reliable manner. E-bikes by design can become a sustainable solution for consumers in an emerging economy that has low monetary wealth. This research addresses the following questions.
How important is a product's design to a product's value and lifespan?

How does implementing innovations in E-bikes affect emerging economies?
The research provides managerial implications based on consumer habits and attitudes toward new products, such as E-bikes, in developing economies.