Published in: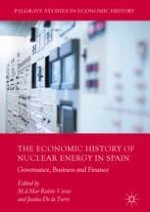 2017 | OriginalPaper | Chapter
1. Seeking the Perennial Fountain of the World's Prosperity
Abstract
This chapter offers a global overview synthetizing the macro-economic and political developments on which the nuclear programs rooted around the world, from the Golden age and until after the two oil crises. Most nuclear programs started and grew during the Golden Age, but slowed down in the mist of the economic crisis of the 1970s. A technology that aspired to become the perennial fountain of world's prosperity was adopted by a little more than 30 of the almost 200 nations of the world. And it was a decision taken (or not) well before any major accident took place. May be because the atomic choice had more economic policy implications than just the average pick of an energy technology over another to meet future electricity demands. This background helps to contextualize the Spanish case within these worldwide dynamics, offering the key elements to build a comparative history, and some initial indications about the true dimensions of the Spanish nuclear program.