31-08-2019 | Issue 3/2021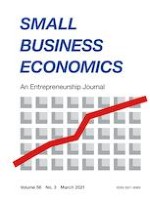 Segmenting "digital investors": evidence from the Italian equity crowdfunding market
Journal:
Authors:

Rosangela Feola, Massimiliano Vesci, Ezio Marinato, Roberto Parente
Important notes
Publisher's note
Springer Nature remains neutral with regard to jurisdictional claims in published maps and institutional affiliations.
Abstract
The financial market despite being hit by the digital revolution has only recently reached the segment of direct investments on the part of non-professional investors in new ventures. Through equity crowdfunding platforms, in particular, capital demand and supply for startups are easily linked, thus bringing thousands of new investors to the financial market. This study examines equity crowdfunding investor drivers when selecting investment proposals. Specifically, we segment the Italian equity crowdfunding investors' market by means of a cluster analysis and explore differences between segments in terms of socio-demographic and behavioral variables. Based on previous studies, six drivers (pertaining to three macro dimensions) were chosen for the segmentation of equity crowdfunding investors: confidence in team, confidence in venture, financial pledge and project attractiveness, platform characteristics, community driver, societal driver. The cluster analysis yielded four clusters we labeled: (1) venture trustful; (2) crowdfunding technicians; (3) financial investors, talent scouters; (4) social dreamers. In order to further specify the profile of the four clusters, each one was cross-tabulated with external variables of crowdfunding investors' socio-economic characteristics and behavioral variables. Understanding, by means of a fine-grain lens, the differences between these new digital investors offers practical insights for crowd-equity platform management or for would-be entrepreneurs seeking funds. Finally, implications on future research streams on crowdfunding are discussed.