2012 | OriginalPaper | Chapter
5. Selecting, Planning, and Deploying SME Broadband-based Information Services, Applications, and Technologies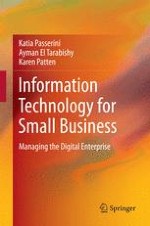 Read first chapter
Authors: Katia Passerini, Ayman El Tarabishy, Karen Patten
Publisher: Springer New York
Abstract
The existing and emerging information technologies discussed in Chap.
4
demonstrate how information technologies can be used to provide a competitive advantage and add value to SME businesses. This chapter describes what SMEs should consider and what they need to know once they decide to use information technologies. It is not a "how to" step-by-step manual, but a guide to what questions SMEs should ask and which decisions they need to make as they first select the right information technologies for their business and then plan and deploy them.
We provide an information technology implementation framework that SMEs could use to evaluate their own business needs and make information technology decisions. This framework helps SMEs to evaluate business needs based on organizational characteristics, environmental characteristics, and technological characteristics. The first part of this chapter discusses key SME considerations as they move through the planning and deployment stages. Once SME owners determine the information technology strategy based on the business needs, they should conduct several different "
feasibility analyses
" to select the specific information technologies and the related service providers. The decision is then made to determine whether the project is conducted in-house or outsourced to a third-party.
The last section of this chapter discusses how, once the appropriate technologies and vendors are selected, SMEs should plan and deploy the new information technologies to insure that the technologies are installed in a cost effective manner and actually perform as expected. The information technology implementation framework may also be used by SMEs to understand and consider how new services impact SMEs' business, customers, and finances.