11-07-2020 | Original Research | Issue 13/2020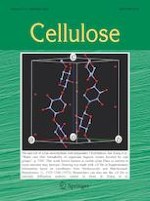 Selective (ligno) cellulose hydrogenolysis to ethylene glycol and propyl monophenolics over Ni–W@C catalysts
Journal:
Authors:

Haiyong Wang, Xiaohong Hu, Siwei Liu, Chiliu Cai, Changhui Zhu, Haosheng Xin, Zhongxun Xiu, Chenguang Wang, Qiying Liu, Qi Zhang, Xinghua Zhang, Longlong Ma
Important notes
Electronic supplementary material
Publisher's Note
Springer Nature remains neutral with regard to jurisdictional claims in published maps and institutional affiliations.
Abstract
The bi-functional Ni–W@C catalysts were prepared by one-pot reduction–carbonization method and used in hydrogenolysis of cellulose as well as raw lignocellulosic biomass to chemicals. The catalytic performance for cellulose conversion showed that it was more favorable for ethylene glycol (EG) production, obtaining the highest EG yield 60.1% over the Ni–W@C700 catalyst. The Ni–W@C bimetallic catalysts are systematically characterized with BET, XRD, Raman, XPS, TEM techniques and experiments to probe the active catalytic sites of the catalysts. The effects of calcination temperature of Ni–W catalysts, reaction time, temperature and H2 pressure on cellulose hydrogenolysis were investigated in detail. The Ni particles could lead to produce more W5+ active sites, which promotes the glucose retro-aldol condensation to break the target C–C bonds. Metallic Ni catalyzed C=O hydrogenation and C–C hydrogenolysis, which could also avoid the coke formation. The EG selectivity was dependent on the synergy of WOx and Ni metal sites. In addition, this synergistic effect between the metal and WOx could promote lignin component degradation in direct conversion of untreated raw lignocellulosic biomass, obtaining the propyl monophenolics including guaiacylpropane, syringylpropane and p-n-propylphenol with a total yield of 17.3 wt% besides EG.