29-08-2018 | Original Paper | Issue 1/2020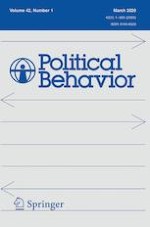 Selfish and Cooperative Voting: Can the Majority Restrain Themselves?
Journal:
Authors:

Peter DeScioli, Bowen Cho, Scott Bokemper, Andrew W. Delton
Important notes
Electronic supplementary material
Abstract
At every scale from small committees to national elections, voters face tradeoffs between self-interest and the common good. We report three experiments in which participants vote for policies with real payoffs at stake. We manipulate self-interest by randomly assigning participants to two groups in society with different policy payoffs. Participants in the majority group are confronted by a simple choice between a policy that is better for themselves or a policy that is best for society. Overall, we find a clear effect of self-interest: Participants are more likely to choose the policy that earns them more money, compared to participants in the other group, even when the policy is detrimental to the common good. Simultaneously, we observe considerable levels of cooperative voting among participants in the majority, ranging from 47% to 79% across different payoff regimes. Finally, participants were not more cooperative when voting compared to when they chose between the same policies with a lottery or leader institution, departing from the hypothesis that voting institutions promote cooperative motives. We discuss implications for multiple literatures about voting behavior.