26-10-2021 | Regular Paper | Issue 11/2021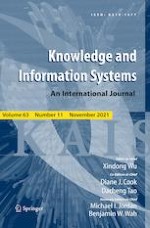 Semantic enrichment of documents: a classification perspective for ontology-based imbalanced semantic descriptions
Journal:
Authors:

Georgios Stratogiannis, Panagiotis Kouris, Georgios Alexandridis, Georgios Siolas, Giorgos Stamou, Andreas Stafylopatis
Important notes
Publisher's Note
Springer Nature remains neutral with regard to jurisdictional claims in published maps and institutional affiliations.
Abstract
This article presents a novel framework for the semantic enrichment of documents, exploiting the hierarchical ontological knowledge of a domain in conjunction with classification techniques. The main contributions of this work are fourfold: (a) a well-defined theoretical model for the semantic representation and enrichment of documents is defined, (b) a method for dealing with the problem of class imbalance is outlined, based on the transformation of the document representations into more balanced ones, (c) a methodology is proposed for assigning semantic labels in those cases where it is hard to decide which label fits best and (d) a set of novel metrics for evaluating the performance of the suggested framework are introduced. The extensive experimental procedure that follows, conducted on two popular datasets, exhibits promising results and constitutes a proof of the robustness of the overall approach.