2021 | OriginalPaper | Chapter
Semi-autonomous Vehicle Transmission and Braking Systems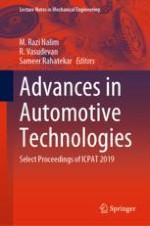 Read first chapter
Authors: G. Paul Robertson, Rammohan A.
Publisher: Springer Singapore
Abstract
In recent times, advancement in the automotive field has made major difference in the evolution of car over a decade. This evolution has made vehicles to move without a driver, and the vehicle performance has improved drastically. As autonomous vehicle is the future mode of transportation, nowadays, it plays a major role in research and development of an automotive industry. In this work, a semi-autonomous system which can be used in small electric vehicles has been built by operating a part of the transmission system and brake as automatic and rest as manual. In this system, the clutch, accelerator, and brake system are made to work automatically by predicting the obstacles using ultrasonic sensors. The shifting of gear alone is done manually. This system is built using a Bajaj CT100 engine, transmission systems, and drum brake. The engine power is transferred to the wheel through a modified transmission system. A Raspberry Pi controller and Python coding are used to control the system. By using an ultrasonic sensor, obstacles are detected, and according to the obstacle distance, the system will be made to start and run.