18-07-2020 | Original Paper | Issue 4/2020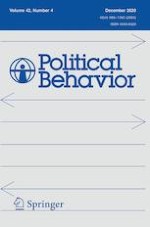 Shades of Privilege: The Relationship Between Skin Color and Political Attitudes Among White Americans
Journal:
Authors:

Nicole Yadon, Mara C. Ostfeld
Important notes
Electronic supplementary material
We express our sincere thanks to Ted Brader, Christopher DeSante, Vince Hutchings, Ashley Jardina, Don Kinder, Spencer Piston, Deborah Schildkraut, Nick Valentino, and Cara Wong, as well as participants in the 2018 PRIEC at UC San Diego and 2019 joint UM-MSU Race and Politics Mini-Conference for constructive feedback on this project. We are indebted to the Russell Sage Foundation for their financial support to perform data collection for this project, as well as our team of research assistants: Kamri Hudgins, Daniel Lopez, Lydia Lopez, Isabel McMullen, and Crystal Robertson. Replication materials are available at
https://​bit.​ly/​3ijmHwD
.
Publisher's Note
Springer Nature remains neutral with regard to jurisdictional claims in published maps and institutional affiliations.
Abstract
Shifting racial dynamics in the U.S. have heightened the salience of White racial identity, and a sense that Whites' social status and resources are no longer secure. At the same time, the growing size of non-White populations has also renewed attention to skin color-based stratification and the potential blurring of racial boundaries. We theorize that Whites with darker skin will be motivated to protect the boundaries of Whiteness due to the loss of status they would face from blurring racial boundaries. Consistent with growing evidence of skin color's importance for Whites, we demonstrate that darker-skinned Whites—measured via a light-reflectance spectrophotometer—identify more strongly with their White racial identity and are more likely to hold conservative political views on racialized issues than lighter-skinned Whites. Together, these findings offer new insights into the evolving meaning of race and color in American politics.