Published in: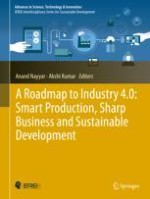 2020 | OriginalPaper | Chapter
si3-Industry: A Sustainable, Intelligent, Innovative, Internet-of-Things Industry
Abstract
Industry 4.0 is a digital revolution being witnessed in the present generation whereby the aim is to digitize the entire manufacturing process with minimal human or manual intervention. The aim is to encompass as many industries as feasible and adapt and enhance the existing technologies to better suit the needs of digital manufacturing. Concepts like smart manufacturing, smart factories and Industrial Internet of Things (IIoT) are some of the key buzzwords of industry 4.0. The success of industry 4.0 lies to a large extent in successful integration and adaptation of various existing and emerging technologies with the present manufacturing process. This chapter aims to provide a comprehensive introduction to the basic concept of industry 4.0 including how it came up, the principles, building blocks and the key technologies and concepts around which it is built and is targeted to develop. To incorporate or upgrade to industry 4.0, any business or organization must undergo many complicated and time-consuming procedures to transit and incorporate the concepts and strategies of industry 4.0 into their current methodologies and techniques. The aspects of maturity and feasibility with respect to the business scenario are also discussed. Industry 4.0 incorporates technologies from a wide range of domains and in turn demands massive changes like those in innovation, production, logistics and service processes. These are also discussed. The chapter concludes with the concept of sustainability as applicable to industry 4.0.