Published in: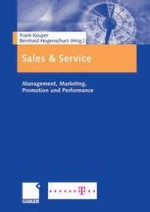 2008 | OriginalPaper | Chapter
Significance and Specifics of Communication in the Service Sector
Authors: Helmut Schneider, Bilgen Coskun
Published in: Sales & Service
Publisher: Gabler
Communication is a crucial tool to build up a relationship with new customers and to cultivate the relationship with the existing customers within various marketing channels from both the theoretical and managerial perspectives.
Mohr
and
Nevin
state that "communication can be described as the glue that holds together the channel of distribution"
1
. This statement supports the concept of integrated communication which provides clarity, consistency and a maximum of communication impact through planning, managing and controlling the communications under one hand.
2