Published in: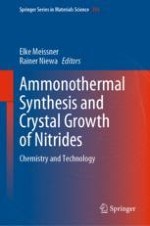 2021 | OriginalPaper | Chapter
1. Significance of Ammonothermal Synthesis for Nitride Materials
Abstract
This chapter is intended to introduce the ammonothermal synthesis as an alternative technique to other methods for nitride materials production. Properties of liquid and supercritical ammonia with focus on use as a solvent for nitride synthesis and crystal growth are discussed and compared to those of water. Finally, inherent drawbacks of the use of fluidic ammonia arising from its chemical properties are considered.