22-01-2020 | Original Paper | Issue 4/2020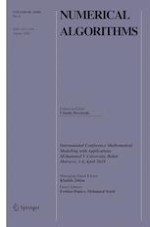 Simple stopping criteria for the LSQR method applied to discrete ill-posed problems
Journal:
Authors:

Lothar Reichel, Hassane Sadok, Wei-Hong Zhang
Important notes
Dedicated to Gérard Meurant on the occasion of his 70th birthday.
Publisher's note
Springer Nature remains neutral with regard to jurisdictional claims in published maps and institutional affiliations.
Abstract
The LSQR iterative method is one of the most popular numerical schemes for computing an approximate solution of large linear discrete ill-posed problems with an error-contaminated right-hand side, which represents available data. It is important to terminate the iterations after a suitable number of steps, because too many steps yield an approximate solution that suffers from a large propagated error due to the error in the data, and too few iterations give an approximate solution that may lack many details that can be of interest. When the error in the right-hand side is white Gaussian and a tight bound on its variance is known, the discrepancy principle typically furnishes a suitable termination criterion for the LSQR iterations. However, in many applications in science and engineering that give rise to large linear discrete ill-posed problems, the variance of the error is not known. This has spurred the development of a variety of stopping rules for assessing when to terminate the iterations in this situation. The present paper proposes new simple stopping rules that are based on comparing the residual errors associated with iterates generated by the LSQR and Craig iterative methods.