01-04-2012 | Issue 2/2012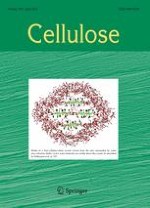 Simple synthesis of mixed cellulose acylate phosphonates applying
n

-propyl phosphonic acid anhydride
Journal:
Authors:

Thomas Heinze, Velina Sarbova, Matilde Calado Vieira Nagel
Abstract
Cellulose mixed esters containing alkylphosphonate and carboxylate groups were prepared homogeneously by a new one-pot method using
n
-propyl phosphonic acid anhydride (T3P
®
) in LiCl/
N
-methyl-2-pyrrolidone (NMP).
n
-Propyl phosphonic acid anhydride acts as both an activating agent for carboxylic acids and phosphonation reagent. Cellulose mixed esters with DS
acyl
ranging from 1.4 to 1.8, and DS
phos
up to 0.7 could be prepared. The structure of the cellulose mixed esters was elucidated by FTIR- and NMR spectroscopy, as well as by GPC and solubility tests.