23-04-2020 | ORIGINAL ARTICLE | Issue 9-10/2020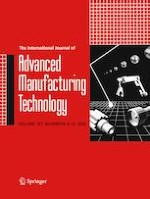 Simulation and analysis of electron beam welding residual stress in thin-walled high-temperature alloy aeroengine structures
Authors:

Xiuli Shen, Kun Gao, Shaojing Dong
Important notes
Highlight
Advanced application background: Design and manufacture of high thrust-weight ratio aeroengines.
Advanced materials for aeroengines: Nickel-base high-temperature alloy (GH4169).
Advanced welding technology: Electron beam welding, a combined ellipsoidal and Gaussian rotating body heat source model.
Application background: Thin-walled welded structures in aeroengines, a full-loop combustor life prediction.
Research method: Numerical modeling, experimental verification, combination of macroscopic and microscopic analysis.
Publisher's note
Springer Nature remains neutral with regard to jurisdictional claims in published maps and institutional affiliations.
Abstract
Electron beam welding (EBW) is widely used to connect thin-walled high-temperature alloy structures in aeroengines. However, the residual stress and deformation caused by the high-temperature gradients generated during welding would affect the rigidity, dimensional stability, and fatigue resistance of the welded structures. The study reported here used a model combining ellipsoidal and Gaussian rotating body heat sources to undertake a numerical simulation of the temperature and residual stress generated during the EBW process. The model was systematically refined by observing and measuring the molten pool morphology. The error rates for key dimensions determining the molten pool shape were less than 6%. With a microscope-based examination, the energy distribution characteristics were detected by the microstructure analysis of grain type and size in different regions to verify the viability of the heat source model. The residual stress of a butt welding was simulated by the proposed heat source model based on the full consideration of a full-loop thin-walled combustor casing structure and material properties. It was found that the average errors for longitudinal and transverse residual stresses of welded joints and their adjacent areas were 10% and 12%, respectively, by comparing with the experimental results. Simultaneously, the low cycle fatigue life of the welded combustor casing would be decreased by 32% considering the influence of welding residual stress. These conclusions can be used as a basis for studying the integrity of thin-walled welded structures in aeroengines.