01-12-2020 | IMG 2016 | Issue 1-4/2020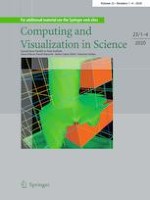 Simulation of 3D flow and solute transport in fractured rock at Äspö, Sweden
Author:

Klaus-Peter Kröhn
Important notes
Communicated by Gabriel Wittum.
Publisher's Note
Springer Nature remains neutral with regard to jurisdictional claims in published maps and institutional affiliations.
Abstract
The code d3f++ developed under the leadership of GRS for simulating 3D flow and solute transport includes an advanced formulation for fracture flow and transport in lower-dimensional elements that has still been in need of qualification. A variety of in-situ experiments in the granitic rock at the Swedish Hard Rock Laboratory Äspö offers an excellent basis for this purpose. Particularly well suited is the work performed in the TRUE Block Scale Project where a hydrostructural model comprising 30 large-scale fractures in a cube-shaped domain with a side length of 200 m has been set up for simulating groundwater flow which in turn forms the basis for reproducing the results of the injection–extraction tracer test "C2". The present paper deals with modelling 3D flow and solute transport with the code d3f++ as a qualification exercise. The modelling results reveal an excellent representation of the contrasts in flow velocity across the fractures. Also the jumps in tracer concentration along intersecting fractures where waters with different tracer concentrations mix are handled well by the code. Calibration has nevertheless been required in order to achieve a reasonable fit of measured and calculated breakthrough curves.