01-08-2009 | WI – Aufsatz | Issue 4/2009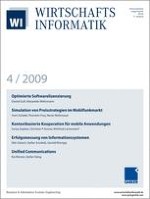 Simulation von Diskontpreis-Strategien im GSM-Mobilfunkmarkt
Journal:
Authors:

Dipl.-Kfm. Sven Schade, Dipl.-Wirtsch.-Inf. Thorsten Frey, Dipl.-Wirtsch.-Ing Nezar Mahmoud
Important notes
Angenommen nach einer Überarbeitung durch Prof. Dr. Buhl.
This article is also available in English via http://www.springerlink.com and http://www.bise-journal.org: Schade S, Frey T, Mahmoud N (2009) Simulating Discount-Pricing Strategies for the GSM-Mobile Market. Bus. Inf. Syst. Eng. doi: 10.1007/s12599-009-0057-0.
Zusammenfassung
Der Beitrag simuliert Netzeffekte im GSM-Mobilfunkmarkt mittels eines ACE-Modells unter Einbeziehung realer Vertragsdaten von Anfang 2007. Am Beispiel eines Prepaid-Vertrags wird der Markteintritt eines neuen Mobilfunkanbieters mit einer Diskontpreis-Strategie untersucht. Konkret wird dabei der Einfluss der einzelnen Vertragsbestandteile eines Prepaid-Vertrags (wie beispielsweise On-Net-, Off-Net- oder Festnetzgebühren) auf den zukünftigen Marktanteil des Neuanbieters analysiert. Die Analyse zeigt, dass ein erfolgreicher Markteintritt mit einem Prepaid-Vertrag und einer Diskontpreis-Strategie für Off-Net-Gebühren gelingen kann, allerdings mit Gebühren, die nur knapp über den Terminierungsentgelten liegen, die an die Fremdnetzanbieter abzuführen sind.