30-10-2021 | Original Research | Issue 18/2021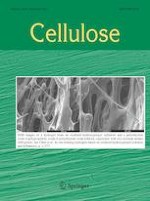 Single fiber swelling behavior for natural and man-made cellulose fibers under alkaline treatment
Journal:
Authors:

Xiang You, Feng Chen, Yibo Ma, Annariikka Roselli, Eric Enqvist, Heikki Hassi
Important notes
Supplementary Information
Publisher's Note
Springer Nature remains neutral with regard to jurisdictional claims in published maps and institutional affiliations.
Abstract
Swelling behavior of cotton, dissolving wood pulp (DWP), viscose staple fiber, and Tencel staple fiber in varying sodium hydroxide (NaOH) concentration were investigated by means of optical microscopy and were characterized by molecular mass distribution, X-ray diffractometer, and dynamic vapor sorption. The effect of temperature (20–45 °C) and duration (0–120 min) was studied. The results reveal that the swelling ratio of fiber in alkali solution depends on fiber accessibility and NaOH concentration. Viscose staple fiber exhibited the highest swelling ratio and lowest swelling ratio observed for dissolving wood pulp fiber among all the materials. The cotton or DWP fibers provide maximum swelling during alkaline steeping (18wt % lye) at higher temperatures, i.e., 45 °C. As for viscose staple fiber and Tencel staple fiber, using 12 wt% lye concentration and steeping at lower temperatures, i.e., 20 °C maximum swelling behavior.