2010 | OriginalPaper | Chapter
Singular Value Decomposition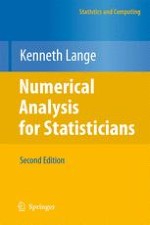 Read first chapter
Author: Kenneth Lange
Publisher: Springer New York
In many modern applications involving large data sets, statisticians are confronted with a large
m×n
matrix X = (
x
ij
) that encodes
n
features on each of
m
objects. For instance, in gene microarray studies
x
ij
represents the expression level of the
i
th gene under the
j
th experimental condition [13]. In information retrieval,
x
ij
represents the frequency of the
j
th word or term in the
i
th document [2]. The singular value decomposition (svd) captures the structure of such matrices. In many applications there are alternatives to the svd, but these are seldom as informative or as numerically accurate.