2021 | OriginalPaper | Chapter
Social Innovation for Sustainability and the Common Good in Ecosystems of the Fourth Sector: The Case of Distribution Through Alternative Food Networks in Valencia (Spain)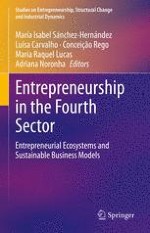 Read first chapter
Authors: Sergio Belda-Miquel, Eugenia Ruiz-Molina, Irene Gil-Saura
Publisher: Springer International Publishing
Abstract
There is increasing attention regarding the contribution of alternative food networks (AFN) for creating more sustainable communities. AFN are initiatives, which try to relocalize and democratize food systems, promoting local and organic agriculture, and reducing the distance between producers and consumers. They take different forms from cooperatives and farmers' markets to on-line platforms, veg boxes and social enterprises. They propose socially innovative schemes and models for food distribution, which combine an orientation towards public and common good with economic self-sufficiency. In this sense, these initiatives frequently take the form of fourth sector or hybrid organizations.
The chapter tries to address the diversity and complexity of these initiatives. For this aim, it goes beyond the usual focus on one kind on AFN initiatives and tries to explore how
ecosystems
of AFN work. From this standpoint, it proposes an original framework based on concepts from the literature on the fourth sector and on social innovation. The framework is used to explore the ecosystem of AFN fourth sector initiatives in the city of Valencia (Spain). The study explores six different types of initiatives by using a purely qualitative strategy, which combines nine interviews with members of initiatives, with experts and with local policymakers; participatory observation; and documentary analysis. Results show that initiatives share common features but also a diversity of strategies and approaches, which may be complementary. It also illustrates the key importance of some contextual elements that both limit (e.g. regulations) and enhance (e.g. networking) these ecosystems. They also face questions and contradictions regarding issues as their limits to growth or the class bias of members.