23-11-2020 | Issue 2/2021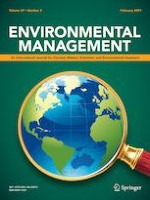 Social-psychological Determinants of the Implementation of Green Infrastructure for Residential Stormwater Management
Journal:
Authors:

Michael Drescher, Sarah Sinasac
Important notes
The original online version of this article was revised: The author name have been corrected.
Supplementary information
Publisher's note
Springer Nature remains neutral with regard to jurisdictional claims in published maps and institutional affiliations.
Abstract
Climate change effects and increasing levels of imperviousness, cause many urban areas globally to experience larger rainfall runoff volumes that need to be managed to protect property and infrastructure, and avoid environmental pollution. Conventionally engineered, 'grey' stormwater infrastructure often is outdated and unable to control these increased runoff volumes. Green stormwater infrastructure (GSI) can complement grey infrastructure, but public land for its installation is limited. Consequently, municipalities often look to residential properties to install GSI at the lot-level. While many studies have been conducted in the engineering aspects of GSI, less is known about what determines residents' decisions to install GSI on their properties. To help close this knowledge gap, we conducted a survey of social-psychological determinants of residential GSI implementation using the Theory of Planned Behavior as theoretical framework, and analyzing our data with partial least squares path modeling. Results from three neighborhoods of our case study area suggest that residents' decisions to install GSI largely are determined by social norms and perceived control factors such as available finances and time. However, residents' beliefs and attitudes toward the effectiveness and attractiveness of GSI did not seem to play a significant role. Neighborhood characteristics including local flooding history did not seem to affect residents' decisions about GSI installation either. We recommend creation of effective municipal education and outreach programs regarding urban stormwater management that speak to residents' shared responsibility and options for addressing this issue, as well as creation of financial instruments that provide meaningful subsidies for residential GSI adoption.