01-06-2015 | Social Science and the Public Interest | Issue 3/2015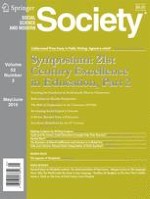 Social Science and the Public Interest
May/June 2015
Journal:
In the first few years of my editorship of
Society
, my venerable predecessor and former Editor-in-Chief, the late Irving Louis Horowitz, gently upbraided me for publishing a book review by a graduate student. "What we want are big or bigger names!" In one sense, he was right, reputation depends on the status of contributors, and I took his admonition that I should be careful in my stewardship of
Society's
reputation. I did point out to Irving that his extraordinary compilation of
Society
authors in the 416-page, special issue (Vol. 35, No.2, Jan/Feb 1998—the issue that preceded my first issue as Editor-in-Chief) contained many authors of the previous 35 years with high reputations in the social sciences. But, I observed, many of them were far less well-known when their contributions first appeared in the pages of
Society
. ...