17-07-2020 | Society's Books of Note | Issue 4/2020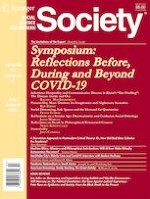 Society's Books of Note
July/August 2020
Journal:
Important notes
Publisher's Note
Springer Nature remains neutral with regard to jurisdictional claims in published maps and institutional affiliations.
Russell Jacoby,
On Diversity: The Eclipse of the Individual in a Global Era
. New York: Seven Stories Press, 2020. $25.95. 230 pp.
Intellectual historian, Russell Jacoby asks what does "diversity" actually mean? Where does it come from? What are its intellectual precedents? How do we square our recognition of the importance of diversity with the fact that the world is becoming more and more homogeneous? Examining diversity (or lack thereof) in language, fashion, childhood experience, political structure, and the history of ideas, Jacoby offers an important analysis of our cultural moment.
...