Published in: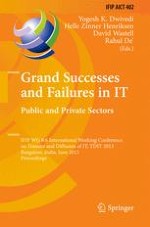 2013 | OriginalPaper | Chapter
Sociomateriality and Information Systems Success and Failure
The aim of this essay is to put forward a performative, sociomaterial perspective on Information Systems (IS) success and failure in organisations by focusing intently upon the discursive-material nature of IS development and use in practice. Through the application of Actor Network Theory (ANT) to the case of an IS that transacts insurance products we demonstrate the contribution of such a perspective to the understanding of how IS success and failure occur in practice. The manuscript puts our argument forward by first critiquing the existing perspectives on IS success and failure in the literature for their inadequate consideration of the materiality of IS, of its underling technologies and of the entanglement of the social and material aspects of IS development and use. From a sociomaterial perspective IS are not seen as objects that impact organisations one way or another, but instead as relational effects continually enacted in practice. As enactments in practice IS development and use produce realities of IS success and failure.