15-09-2018 | Methodologies and Application | Issue 19/2019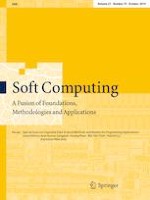 Soft concept lattice for formal concept analysis based on soft sets: theoretical foundations and applications
Journal:
Authors:

Won Keun Min, Young Key Kim
Important notes
Publisher's Note
Springer Nature remains neutral with regard to jurisdictional claims in published maps and institutional affiliations.
Abstract
Formal concept analysis (FCA) is an important theory on the study of hierarchical structures caused by a binary relation between objects and attributes. And it is well known that a soft set always induces a binary relationship between objects and attributes for a formal context. Based on these facts, we study a new system called a soft context, which is induced using a soft set instead of a binary relation in the formal context, and investigate its theoretical foundations. First, we introduce the notions of soft context and soft concept for objects and study some basic properties. In particular, for the purpose of studying soft concepts, we introduce and study the notions of independent and dependent soft concepts. And we obtain the important things: (1) the set of all soft concepts can be decomposed into the set of independent soft concepts and the set of dependent soft concepts; (2) every dependent soft concept is generated by some independent soft concepts. Second, we obtain important properties about the relationship between formal context and soft contexts as the following: (1) each formal context always induces an associated soft context; (2) for a given formal context, there exists a bijection between the set of all formal concepts and the set of all soft concepts of the associated soft context induced by the given formal context. And we apply the above-mentioned properties to get the set of all formal concepts of a given formal context and explain that this method is more effective than the traditional way of computing all formal concepts in formal contexts using the example. Finally, we introduce the notion of soft concept lattice. Also, for a given formal context, we show that the formal concept lattice is order-isomorphic to the soft concept lattice of the associated soft context.