01-11-2017 | Issue 11/2017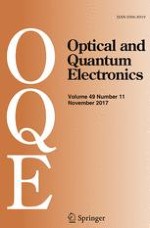 Solutions of time-fractional Kudryashov–Sinelshchikov equation arising in the pressure waves in the liquid with gas bubbles
Journal:
Authors:

Ghazala Akram, Maasoomah Sadaf, Nageela Anum
Abstract
In this paper, analytical approximate solutions for time-fractional Kudryashov–Sinelshchikov equation have been obtained. Two different techniques have been implemented to calculate the solutions, namely, homotopy analysis method and residual power series method. The approximate solutions are represented numerically and graphically for different values of fractional order of derivative. The numerical results are expressed in Tables
1
,
2
,
3
and
4
which show that the approximate solutions are in good agreement with the exact solution. The comparative study of the numerical results reveal that both methods are reliable and effective tools for the solution of time-fractional Kudryashov–Sinelshchikov equation.