18-04-2021 | Issue 4/2021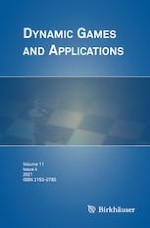 Some Game-Theoretic Remarks on Two-Player Generalized Cops and Robbers Games
Journal:
Authors:

Athanasios Kehagias, Georgios Konstantinidis
Important notes
Publisher's Note
Springer Nature remains neutral with regard to jurisdictional claims in published maps and institutional affiliations.
Abstract
In this paper, we study the two-player
generalized cops and robbers
(GCR) games introduced by Bonato and MacGillivray. Our main goals are to provide: (a) a
game-theoretic
formulation of GCR and (b) a
self-contained game-theoretic
proof that GCR has a value and an optimal strategy profile. To achieve our goals, we first formulate GCR (and CR as a special case) as a zero-sum stochastic game. Then we study a Vertex Labeling (VL) algorithm and prove it computes the value of the GCR game (for every starting "condition") and that the vertex labels can be used to specify a positional deterministic optimal strategy for each player. We also compare our game-theoretic analysis to some of the usual graph theoretic/combinatorial approaches to CR/GCR.