12-02-2019 | Original Paper | Issue 7/2019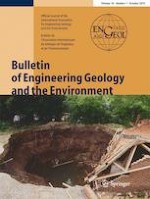 Some relations among fall cone penetration, liquidity index and undrained shear strength of clays considering the sensitivity ratio
Authors:

Satoru Shimobe, Giovanni Spagnoli
Abstract
This note describes some relations among fall cone penetration,
d
, liquidity index, LI, and undrained shear strength
s
u
, of clays. Fall cone tests are used to assess the liquidity index considering also the sensitivity ratio of undisturbed and remoulded soils, based on the cone penetration. Considering the British and the Swedish cones, it is possible to observe some differences between
d
values. Because the cone penetration amount is dependent on the undrained shear strength and that undrained strength of clays can be related to LI, a relation correlating LI based on the fall cone method and the cone penetration amount
d
for remoulded soils was obtained. It was observed that in remoulded soils, the
LI
−
d
relationship for each cone is unique irrespective of the soil type, testing equipment and operators. The correlation between liquidity index and undrained shear strength is provided considering new data and literature values taking into consideration the sensitivity ratio as well. From the
LI
−
s
u
−
S
t
relationship, it is possible to obtain a general overview about the strength characteristics of soils. Sensitivity ratio can also be extrapolated by liquidity index values considering a coefficient 'a' which might be related to the sedimentary environment (e.g. salt content), mineralogical composition and structure of clays, which however must be confirmed by further research. Finally, the predicted sensitivity ratio S
t
*
is evaluated against the measured one within a range of (0.5-2)S
t
.