2015 | OriginalPaper | Chapter
40. Space Situational Awareness and Recognized Picture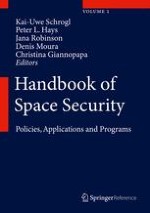 Read first chapter
Author: Louis Leveque
Publisher: Springer New York
Log in
Abstract
Space surveillance is an old story that is linked with the "Cold War" period and the first Sputnik launch in 1954. For 20 years, this activity was performed in the USA and USSR with little European involvement.
Since the collapse of the Soviet Union, there has been a renewal of interest in space surveillance capability for two different communities.
The defense community interest is mainly linked with the proliferation of space-capable states that implies a new risk of space militarization.
The commercial community interest is mainly linked with the degradation of space environment including space debris, radio electric interference, and space weather consequences.
The two communities try to find a cooperative way to establish a common space surveillance reference.