01-06-2015 | Original Article | Issue 12/2015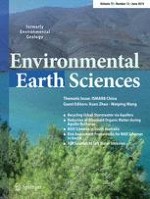 Spatial variability in hydrogen and oxygen isotopic composition of Korean Red Pine and its implication for tracing wood origin
Journal:
Authors:

Seonhye Lee, Beyung Su Park, Dongho Lee, Heesun Chung, Kwang-Sik Lee
Abstract
This study was conducted to examine the spatial variability in hydrogen and oxygen isotopic composition of Korean Red Pine (
Pinus densiflora
S. et Z.) and to explore the possibility of using wood isotopic composition as an indicator of geographical origin. Wood specimens were collected from 13 locations in South Korea, and isotopic composition was analyzed for the bulk wood and α-cellulose extracts. The isotopic composition of pines varied with growing location. δ
2
H and δ
18
O values of both bulk woods and α-cellulose decreased toward the high-latitude and inland areas, largely following variability in the isotopic composition of surface waters. Geographical variability was better represented by the bulk wood isotopic composition than by α-cellulose. Korean Red Pine is a common construction material that is threatened by illegal cutting and forgeries of origin. Therefore, the results obtained in this study provide a possible isotopic method for the tracing of wood origin.