22-03-2016 | REFRACTORY AND SHAPE-MEMORY ALLOYS | Issue 11-12/2016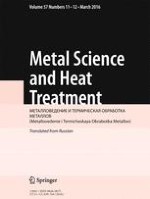 Special Features of Creep and Long-Term Strength of Single-Crystal Refractory Nickel-Base Alloys
Journal:
Authors:

S. G. Semenov, L. B. Getsov, E. A. Tikhomirova, A. S. Semenov
Important notes
Translated from
Metallovedenie i Termicheskaya Obrabotka Metallov
, No. 12, pp. 29 – 37, December, 2015.
Results of experimental studies of creep in a wide range of temperatures and stresses are presented for three modern single-crystal nickel-base alloys. A method for determining the creep characteristics by tests including step increase of the tension is suggested and tested. The effect of transition into plastic condition on the creep parameters, the influence of the chemical composition and loading conditions on the duration of creep stages I, II and III, and the conditions of appearance of crystallographic and not crystallographic modes of fracture are analyzed. Possible simple approximations of the creep curves are considered with allowance for the accumulation of damage and occurrence of unsteady creep stages.