26-04-2021 | Issue 1/2021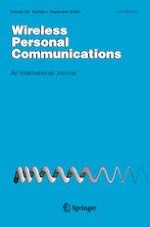 SRR and Rectangular Stubs Loaded Novel Fractal Antenna Realization for Multiband Wireless Applications
Journal:
Authors:

Navjot Kaur, Jagtar Singh Sivia, Mahendra Kumar
Important notes
Publisher's Note
Springer Nature remains neutral with regard to jurisdictional claims in published maps and institutional affiliations.
Abstract
This manuscript presents the novel design of Split Ring Resonator (SRR) and rectangular stubs loaded Circular Fractal Antenna for multiband wireless applications. Initially, the antenna is designed by introducing various fractal iterations from 0th to 3rd and the final iteration is designated as Antenna-I. This antenna exhibits the maximum bandwidth of 8.35 GHz from 4.12 to 12.47 GHz. Further, this bandwidth has been enhanced and inflated as 10.29 GHz from 2.07 to 12.36 GHz, by introducing the SRR structure in the geometry of 3rd iteration of the designed antenna and designated as Antenna-II. Similarly, to further improve the performance parameters the rectangular stubs are introduced in the structure of Antenna-II to obtain the proposed antenna final geometry called Antenna-III. The final structure of the proposed antenna shows improved impedance matching and exhibits the bandwidth of 11.43 GHz (1.30–12.73 GHz) and 5.17 GHz (14.83–20.0 GHz) in 1 to 20 GHz frequency range. The total dimensions of the proposed antenna is 36 × 32 mm2 and can be valuable for different multiband wireless applications such as a DCS, PCS, UMTS, Bluetooth, WiMAX, GSM, IEEE 802.16e, ITU, IEEE802.11a (WLAN)/b/g, C/S/X/Ku and K band.