20-07-2020 | STATE STANDARDS | Issue 3/2020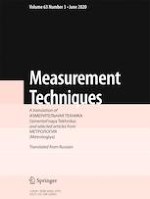 State Primary Standard of Ultrasound Power Unit in Water GET 169-2019
Journal:
Authors:

А. М. Еnyakov, S. I. Kuznetsov, G. S. Lukin
Important notes
Translated from Izmeritel'naya Tekhnika, No. 3, pp. 3–8, March, 2020.
The results of works on the improvement of the State Primary Standard of an ultrasound power unit in water GET 169-2005 are presented in this paper. As a result of the inclusion of two new reference ultrasound power meters in the standard, the frequency and dynamic ranges of the reproduction and transmission of the power unit to lower-level measuring instruments have been expanded. The absorbing targets are used for measuring the radiation effect of the ultrasonic wave and the absorbed ultrasonic energy in the reference meters. This is very important for the metrological support of modern high-tech medical ultrasound equipment, including focused high-intensity ultrasound beams for cancer treatment. The automation of the measurement process used in the State Primary Standard of the ultrasound power unit in water GET 169-2019 has significantly reduced the complexity of verification procedures and increased the measurements accuracy.