Published in: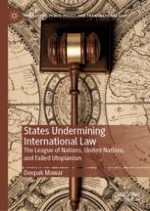 2021 | OriginalPaper | Chapter
1. States Undermining International Law: An Introduction
Abstract
This chapter introduces the key research aims and questions explored throughout this book. Firstly, the valuable impact of utopianism on the international legal system is introduced and summarised by a new utopian concept, emancipatory idealism. Secondly, concerns regarding the State's primary position in international law are raised in order to argue that for the sake of achieving utopian goals, this aspect of international law requires reassessment. Then, it is suggested that the central aims of emancipatory idealism have played a significant role in the development of international law, and that these utopian developments have at times been undermined by States. In order to prove such a postulation, an analysis of the League of Nations and the United Nations—and the manner in which States have interacted with these international organisations—is proposed.