31-10-2016 | Original Paper | Issue 1/2017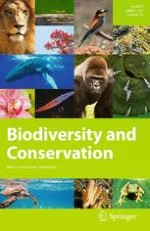 Stone walls and sacred forest conservation in Ethiopia
Journal:
Authors:

Carrie L. Woods, Catherine L. Cardelús, Peter Scull, Alemayehu Wassie, Mabel Baez, Peter Klepeis
Important notes
Communicated by Frank Chambers.
Electronic supplementary material
The online version of this article (doi:
10.​1007/​s10531-016-1239-y
) contains supplementary material, which is available to authorized users.
This article belongs to the Topical Collection: Forest and plantation biodiversity.
Abstract
Many tropical forests worldwide are protected due to their sacredness to religious communities. In the south Gondar region of Ethiopia, most of the remaining native forests are tiny fragments (5.42 ha ± 0.34) surrounded by pasture and agriculture that are protected because they encompass churches of the Ethiopian Orthodox Tewahido Church (EOTC). A small number of communities have erected stone walls around the perimeter of the forests to demarcate the boundary, and/or protect the interior of the forest. We evaluated the effectiveness of these walls at protecting ecological conditions by examining tree and seedling communities among sacred forests with and without walls in Montane and Upper Montane sites. We found the wall to be an effective conservation tool as regeneration potential was higher in forests with a wall. The density and species richness of seedlings were significantly higher in forests with a wall and these effects were more pronounced in Upper Montane forests. Forests with a wall also had seedlings of many native tree species that were not found in forests without walls. As expected, there were few differences in tree communities in forests with and without a wall. Although rare on the landscape, the presence of a stone wall around these forests was effective at protecting the seedling community because it likely reduced access to the forests by grazers and directed human visitors to trails. The use of a stone wall may protect seedling communities in other sacred forest fragments, particularly for those that are small, isolated, surrounded by agriculture, and have a depleted seed bank.