28-08-2017 | Issue 11/2017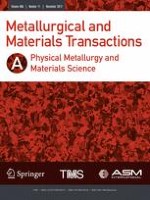 Strain-Rate and Temperature Dependences of Deformation Behavior of AZ61Mg Alloy Processed by Multi-directional Forging Under Decreasing Temperature Conditions
Authors:

C. Watanabe, R. Monzen, R. Ueji, H. Miura
Important notes
Manuscript submitted April 10, 2017.
Abstract
Strain-rate and temperature dependences of deformation behavior of ultrafine-grained (UFGed) AZ61Mg alloy were examined. For this purpose, AZ61Mg alloy specimens were subjected to multi-directional forging (MDFing) under decreasing temperature conditions to have various grain sizes. The average grain sizes attained by MDFing to 1, 3, 6 and 9 passes were approximately 8, 2, 0.5 and 0.3
μ
m, respectively. A superior balance of the mechanical properties of strength and ductility at room temperature was achieved by MDFing to three passes and over. The strain-rate sensitivity of mechanical properties of the MDFed specimens increased with decreasing grain size. The specimens with grain sizes of 0.5 and 0.3
μ
m (0.5 or 0.3 specimen) exhibited stronger strain-rate and temperature dependences of total elongation than those with grain sizes of 8 and 2
μ
m (8 or 2 specimen). This can be partially ascribed to grain-boundary sliding, since an AFM observation revealed the occurrence of room-temperature grain-boundary sliding in the 0.3 specimen. The activation volume
V
* for the 8, 2 and 0.5 specimen increased with increasing temperature, while the 0.3 specimen exhibited an inverse temperature dependence of
V
*. This suggests a change in deformation mechanism with decreasing grain size as well as the occurrence of grain-boundary sliding.