Published in: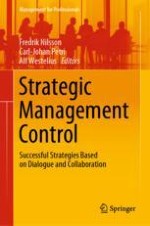 2020 | OriginalPaper | Chapter
1. Strategic Management Control in Theory and Practice
Abstract
This book presents and discusses the fundamentals of strategic management control. It shows how and why this influential mode of control has become crucial for the successful formulation and implementation of competitive strategies. The book focuses on the importance of a strategic dialogue between managers and co-workers ('Co-worker' is the term used in this book for people who have non-managerial positions. We recognise that some of the cited authors use the word 'employee'.) and the role of the strategic management control system in facilitating such a dialogue. The reader will be provided with an overview of the latest developments of the field—both from the research front as well as from practice. To help the reader relate this overview to the practices of her own organisation, the book is loosely structured around the familiar and well-established planning and follow-up structure that most control systems are based on. The first chapter in the book will give the reader an introduction to strategic management control: what it is and how it has developed from a more traditional mode of management control. There is also an overview of the following eight chapters in the book. The 15 authors of the book are all leading experts within their specific field. That ensures that the reader will be provided with well-grounded and different perspectives on strategic management control.