2018 | OriginalPaper | Chapter
16. Stress Distribution in PEM Fuel Cells: Traditional Materials and New Trends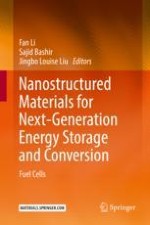 Read first chapter
Authors: Javier de la Cruz, Tatiana Romero, Ulises Cano
Publisher: Springer Berlin Heidelberg
Abstract
The even distribution of mechanical stress along the fuel cell is an important metric to observe in order to preserve the integrity of the system's components. The diversity of the fuel cell's comprising materials and dimensions, ranging from thin polymers, porous electrocatalyst and gas diffusion layers, graphite blocks, gaskets, and seals to metallic foils and plates, produces different load transmission patterns. These variations in load when combined with their particular mechanical properties may promote localized stresses deriving in accelerated degradation or, even worse, in early unsafe failure.
In transport applications, main fuel cell mechanical stressors, such as the fuel cell assembly torque, operational parameters, and vibration, can induce harsh conditions altering the lifetime of the system. The ionomeric membrane and bipolar plates are critical components in the fuel cell that may fail through mechanical means; therefore, understanding their limitations to withstand mechanical stress is important in redesigning these components to prevent unintended damage and failure.
In this chapter, we give a personal perspective account of the mechanical properties of the fuel cell's most sensitive components, i.e., the proton exchange membrane (PEM) and the bipolar plate (BP) are examined in the scope of their current material limitations; alternative material's substitution is discussed for improving the endurance of the integrated fuel cell device. This chapter is designed to give the fuel cell practitioner real hands-on experience on the actual engineering aspects of FC bench testing and associated testing specifications including US Department of Energy guidelines and targets.