06-12-2019 | Production Process | Issue 1/2020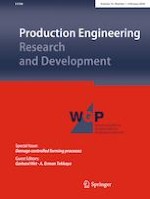 Stress-state dependent formability modelling in hot stamping
Journal:
Authors:

Giulia Venturato, Andrea Ghiotti, Stefania Bruschi
Important notes
Publisher's Note
Springer Nature remains neutral with regard to jurisdictional claims in published maps and institutional affiliations.
Abstract
Despite their large industrial use, Forming Limit Diagrams can describe the material formability only under single-stroke deformations, but they can dramatically fail when the deformation is not linear or incremental as it happens in many sheet forming processes. So, the need of alternative approaches is particularly significant in order to have a more general and effective description of the material formability. The paper focuses on the use of the Generalized Incremental Stress-State dependent damage MOdel (GISSMO) to predict the formability in 22MnB5 hot stamping. The model was calibrated on the basis of laboratory experiments carried out at high temperature, and the results validated on a laboratory simulative tests of stretching at high temperatures, namely 700 °C and 800 °C, showing a good agreement between numerical and experimental results.