28-01-2019 | Original Research | Issue 5/2019 Open Access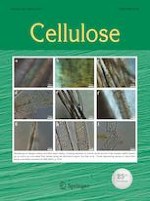 Stronger cellulose microfibril network structure through the expression of cellulose-binding modules in plant primary cell walls
Journal:
Authors:

Núria Butchosa, Felicia Leijon, Vincent Bulone, Qi Zhou
Important notes
Electronic supplementary material
Publisher's Note
Springer Nature remains neutral with regard to jurisdictional claims in published maps and institutional affiliations.
Introduction
In plant primary cell walls, cellulose microfibrils (CMFs) act as a load bearing component embedded in a hydrated matrix of hemicelluloses and pectins (Brown
2004
; Carpita and Gibeaut
1993
; Somerville
2006
). CMFs are synthesized at the surface of the plasma membrane by large cellulose synthase complexes designated as rosettes. Cellulose nanofibers or cellulose nanofibrils (CNFs) are three orders of magnitude smaller than intact plant fiber cells, and have attracted particular attention in nanotechnology and material sciences recently. CNFs can be prepared from diverse sources, such as wood pulp, bacterial cellulose, and food processing waste streams. Extensive efforts have been devoted to their preparation and characterization, and to the fabrication of new CNF-based composite structures, including films, fibers, aerogels, and hydrogels (Klemm et al.
2011
; Moon et al.
2011
). The preparation of CNFs generally requires several steps, typically an enzymatic pretreatment and/or a chemical modification step followed by mechanical homogenization. For example, CNFs with uniform width similar to that of individual CMFs spun by single rosettes (ca. 3.5 nm) have been successfully prepared from wood pulp fibers using chemical pretreatment and subsequent mechanical disintegration (Pei et al.
2013
; Saito et al.
2006
). Each of the preparation steps influences the particle shape, size and size distribution, and interfacial properties of the CNFs obtained. In order to exploit improved preparation methods to decrease the internal damage in CNFs and lower the energy consumption required, an increased understanding of the mechanism involved in plant cell wall formation and its recalcitrance to degradation is essential. To make biomass less recalcitrant to processes for energy production, such as biofuel generation, the cell wall can be modified by altering its chemical composition or properties through genetic engineering (Albersheim et al.
2010
). The modification of the biosynthetic process of cellulose in plant cell walls has great potential to alter the structure of cellulose microfibrils and decrease their resistance against chemical and mechanical treatments. However, the impact of such genetic engineering approaches on the extraction of cellulose nanomaterials from biomass, including nanofibrils and nanocrystals, has not been addressed previously.
Cellulose synthesis in plants has been affected in vitro using cellulose-binding modules (CBMs) (Shpigel et al.
1998
). CBMs are non-catalytic domains that naturally occur in glycoside hydrolases. Some of them bind specifically to different forms of cellulose. For instance, CBMs from family 3 are typically specific for crystalline cellulose (Tormo et al.
1996
) and this binding activity can potentially be exploited for the modification of cellulose (Shoseyov et al.
2006
). This is illustrated through the use of CBMs to crosslink cellulosic fibers in paper to improve mechanical properties (Levy et al.
2002a
). Recombinant proteins containing a CBM and an adhesion sequence were used to modify bacterial cellulose (Andrade et al.
2010
). The properties of bacterial cellulose have also been successfully modified in vitro by the addition of CBMs or endo-1,4-
β
-glucanases (Levy et al.
2002b
) to the cell culture medium. The presence of these proteins in plant cell cultures resulted in a significant elongation of the plant cells (Shpigel et al.
1998
). Furthermore, the overexpression of CBMs in
Nicotiana
,
Arabidopsis
or
Populus
led to an increased biomass production (Shani et al.
1999
), while the paper made from pulp fibers arising from poplar trees that express CBMs was characterized by an increased mechanical performance due to structural changes in cellulose (Shoseyov et al.
2003
).
Here suspension-cultured tobacco (
Nicotiana tabacum
) cells were genetically engineered to overexpress CBM from family 3 (CBM3). The influence of CBM3 overexpression on the structure and mechanical properties of the CMFs synthesized in the primary walls was studied. Cellulose was extracted from the suspension-cultured cells by sequential removal of the non-cellulosic components of the primary cell walls. Cellulose nanocrystals (CNCs) were prepared from the extracted cellulose by using acid hydrolysis, and characterized. CMFs were individualized from the extracted cellulose by ultrasonication. Nanopapers were prepared from the CMFs arising from the cells overexpressing CBM3 and from the wild type (WT) cells. The mechanical properties and deformation mechanism of these nanopapers are presented.
Experimental section
Materials
CBM3 from the
Clostridium thermocellum
cellulosome integrating protein (GenBank accession number ABN54273) was expressed in tobacco BY-2 cell suspension cultures (
Nicotiana tabacum
L. cv. Bright Yellow-2, DSMZ PC-1181) grown in Murashige and Skoog medium (Supporting Information). All other materials and chemicals were purchased from Sigma-Aldrich and used without further purification. Ultrapure water (resistivity ≥ 18.2 MΩ cm) was used in all experiments.
Extraction of cellulose from tobacco cells
Suspension-cultured tobacco cells from WT or CBM3 lines (200 g) were washed extensively and resuspended in water to a total weight of 500 g. The suspensions were placed in an oven at 65 °C, and NaClO2 (4 g) and acetic acid (1.375 mL) were added every 15 min for a total of four times. The suspensions were then removed from the oven and kept overnight at room temperature. The samples were subsequently washed 4 times in deionized water by centrifugation (17700 g for 15 min; Avanti J-26XP centrifuge (Beckman Coulter Corp., USA)). The pellets were resuspended in water to a total weight of 300 g and 30 mL of 100 mM sodium acetate buffer pH 5 was added. The suspensions were then incubated at 100 °C for 1 h and 3 mL K2CO3 (2 M)/CDTA (0.3 M) was added prior to a further overnight incubation at room temperature. The samples were successively washed twice by centrifugation as above, resuspended in 5.6% KOH to a total weight of 300 g and incubated overnight at 4 °C. The insoluble material corresponding to the extracted cellulose was washed by centrifugation until neutral pH was reached, and resuspended in water to a solid content of 0.2 wt%.
Preparation of CMFs
The cellulose extracted from the primary walls of suspension-cultured tobacco cells was disintegrated by sonication using a Branson Sonifier 250 instrument (Branson Ultrasonics Corp., U.S.A). The suspensions (0.2 wt%) were sonicated in batches of 100 mL each, using a probe with a tip diameter of 13 mm. The samples were cooled down to 4 °C before the sonication treatment.
Acid hydrolysis of extracted cellulose
The freeze-dried cellulose extracted from the WT or CBM3 lines (100 mg) as described above was hydrolyzed in 1 mL of 64 wt% H2SO4. The reaction was performed for 45 min at 45 °C under continuous stirring and stopped by dilution with deionized water. The suspensions were dialyzed against deionized water using regenerated cellulose dialysis membranes (Spectrum Spectra/Por, 12,000–14,000 molecular weight cut-off) for 7 days until constant neutral pH was reached. Mixed bed ion-exchange resin (Dowex Marathon MR-3 hydrogen and hydroxide form) was added to the cellulose suspensions for 48 h and then removed by filtration. The samples were sonicated for 1 min with cooling in an ice bath to obtain colloidal suspensions of CNCs.
Preparation of nanopaper
Water suspensions of the prepared CMFs (0.3 g dry weight) were diluted from 0.2 to 0.1 wt%, degased, and filtered under vacuum using a membrane filter (DURAPORE
®
0.65 μm, DVPP, Millipore, Ireland) until a freestanding hydrogel was formed. Nanopapers were prepared by drying the hydrogels with an automatic sheet former (Rapid Köthen, RK3A-KWT PTI, Germany) at 93 °C for 20 min, as typically performed for the preparation of nanopapers from wood pulp CNFs (Henriksson et al.
2008
).
Characterization methods
The extracted cellulose and CMFs were analyzed by field-emission scanning electron microscopy (FE-SEM). All samples were diluted to 0.1 wt% and freeze-dried using liquid nitrogen. The samples were glued with carbon tape to metal stubs and coated with a thin layer of platinum/palladium using a sputter coater (Cressington 208HR), and observed with a Hitachi S-4800 FE-SEM microscope working at low acceleration voltage and short working distance. The turbidity of the diluted suspensions of CMFs (0.1 wt%) was studied using a UV–visible spectrometer CARY50 Bio (Varian, Inc., U.S.A.). Light transmittance was measured from 200 to 700 nm using quartz cuvettes. The prepared CMFs and acid hydrolyzed CNCs were examined by transmission electron microscopy (TEM). For each sample, dilute water suspensions were deposited on carbon-coated grids and negatively stained with 2 wt% uranyl acetate. All specimens were observed using a Hitachi transmission electron microscope HT7700 operated in high contrast mode at 100 kV. The morphology of the CMFs and the surface structure of CMF nanopapers were studied by atomic force microscopy (AFM, Nanoscoper IIIa Veeco, U.S.A.). Dilute suspensions (100 µL, 0.005 wt%) of the CMFs were dried on freshly cleaved mica substrates glued to a magnetic support. The samples were scanned using the tapping mode under ambient air conditions. RTESP silica cantilevers, with a spring constant of 40 N/m, were oscillated near their resonance frequency between 200 and 400 kHz. The nanopaper samples were directly glued onto a magnetic support and imaged at room temperature using ScanAsyst-air cantilevers and the ScanAsyst mode (Bruker, USA). The density of the nanopapers was determined by dividing the weight of the sample by its volume, as measured by a digital caliper. The mechanical properties of the nanopapers were tested with a Universal testing machine (Instron 5944, Instron, USA). All samples were cut into rectangular specimens of 5 mm in width. The specimens were tested using a strain rate of 2 mm min−1 and a gauge length of 20 mm at room temperature and 50% relative humidity. The elastic modulus was calculated from the slope of stress–strain curves at low strain. At least 5 specimens were analyzed for each sample. The cross-sections of the fracture surfaces after the tensile tests were further analyzed by FE-SEM.
Results and discussion
Conclusions
We have demonstrated that the structure and properties of cellulose microfibrils from plant cells can be modified by interfering with the biosynthesis of cellulose through the overexpression of CBMs. CMFs were successfully prepared from WT and CBM3 transformed tobacco cells by the removal of non-cellulosic components in primary cell walls, followed by a very mild mechanical treatment (3 min sonication). In addition, the structure of the ordered domains in cellulose from the WT and CBM3 cells was studied after strong acid hydrolysis to produce CNCs. The CNCs obtained from the genetically modified cells were twice as long as those from the WT cells. This result suggests a different arrangement of the ordered regions in cellulose from WT and CBM3 samples. The longer and higher ordered regions in cellulose from the CBM3 cells correlated with higher production yields of CNCs, and resulted in a significantly improved strength and toughness of the corresponding nanopaper.
Acknowledgments
The authors thank the Swedish Research Council Formas (CarboMat, 2009-1687) and the EU FP7 MultiBioPro project (Grant Agreement No. 311804) for supporting this work.
Open Access
This article is distributed under the terms of the Creative Commons Attribution 4.0 International License (
http://​creativecommons.​org/​licenses/​by/​4.​0/​
), which permits unrestricted use, distribution, and reproduction in any medium, provided you give appropriate credit to the original author(s) and the source, provide a link to the Creative Commons license, and indicate if changes were made.
Publisher's Note
Springer Nature remains neutral with regard to jurisdictional claims in published maps and institutional affiliations.