27-10-2018 | Issue 2/2019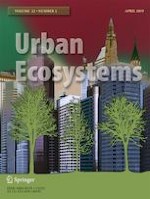 Structural landscape changes in urban and peri-urban agricultural systems of two West African cities and their relations to ecosystem services provided by woody plant communities
Journal:
Authors:

Kathrin Stenchly, Antoine Waongo, Wolfgang Schaeper, George Nyarko, Andreas Buerkert
Important notes
Electronic supplementary material
Abstract
High urbanization pressure in Sub-Saharan Africa led to changes in the composition and configuration of rural and peri-urban agricultural production systems and to the establishment of highly market-oriented urban farming systems. Trees and shrubs, as a key component of agroecosystems, provide ecosystem services that support food security and agricultural productivity. However, the relationship between landscape structure, land use intensification, species diversity and functional diversity of woody plant communities particularly within the semi-arid environment of West Africa has received little attention. We combined GIS analyses and field sampling of woody plant communities of 72 agricultural systems located in rural, peri-urban and urban areas of Tamale (Ghana) and Ouagadougou (Burkina Faso). From a landscape perspective, peri-urban systems in Ouagadougou formed a transition or interacting zone between rural and urban systems and were shaped by urban growth dynamics whereas in Tamale peri-urban systems constituted a simplification of the rural parkland habitats and was mainly determined by agricultural intensification. Woody plant communities showed a high functional richness along the rural-urban gradient and provided a variety of ecosystem services, with food provisioning as main good. A trade-off between two regulating services, bio-control of pests and pollination services, could be observed within urban and in part within peri-urban farming systems. Hence, obtaining a holistic understanding of how landscape structure that is shaped by city growth and agricultural intensification affects ecosystem services is fundamental if West African urban farmers are to be politically supported in their efforts to manage landscapes effectively and to ensure agro-ecosystem multi-functionality and productivity.