01-09-2014 | Issue 17/2014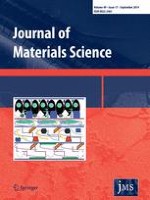 Structure, swelling, and drug release of thermoresponsive poly(amidoamine) dendrimer–poly(
N

-isopropylacrylamide) hydrogels
Journal:
Authors:

Sara Bekhradnia, Kaizheng Zhu, Kenneth D. Knudsen, Sverre Arne Sande, Bo Nyström
Abstract
Functional drug delivery systems are important for improved pharmacotherapy. The aim of this work was to describe how the introduction of varying amounts of the dendrimer polyamidoamine (PAMAM) into a chemically cross-linked thermoresponsive poly(
N
-isopropylacrylamide) (PNIPAAM) gel affects the structure, swelling properties, and drug release characteristics. The structure of the gel system was characterized by small-angle X-ray scattering (SAXS), while the drug delivery system was characterized by measuring the swelling, loading, and release of the model drug. The SAXS results suggest that the PNIPAAM gel is heterogeneous on a local length scale, whereas more homogeneous gels are formed in the presence of PAMAM. Increased swelling and loading capacity were observed for higher fractions of PAMAM dendrimer. This was explained by the enhanced hydrophilicity obtained by inclusion of the dendrimers. The swelling process was observed to be very slow taking place over several days, indicating other mechanisms than diffusion to be the rate-limiting step. The temperature-induced deswelling was more pronounced for the dendrimer-containing formulations. This process was observed to be very fast and complete within a couple of hours. Similarly the release rate was quite fast without being affected by inclusion of the dendrimer. Retention of a significant portion of the loaded drug at specific conditions was shown to be due to the hydrogen bonding ability of PNIPAAM. Improved conditions for drug delivery were achieved in several respects by incorporation of PAMAM dendrimer molecules in the PNIPAAM hydrogel. Our results indicate that the PAMAM entities expand the PNIPAAM gel and that the gel becomes more homogeneous.