01-03-2015 | Original Article | Issue 1/2015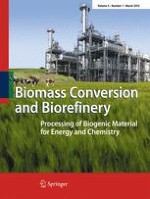 Studies on synthesis of biodiesel from microalgae oil in immobilized lipase fluidized bed bioreactor
Journal:
Authors:

C. M. Narayanan, Tripti De
Abstract
Attempts have been made to study synthesis of biodiesel by the trans-esterification of microalgae oil using methanol and immobilized lipase enzyme in a fluidized bed bioreactor. A multi-parameter software package has been developed through mathematical simulation of the reactor performance. The bioreactor is assumed equivalent to a plug flow dispersion reactor (PFDR) with a chosen value of axial dispersion coefficient (
D
L
), and the resistance to substrate transfer into the support particles (that accommodate the immobilized lipase) is adequately taken cared of by incorporating an appropriately defined effectiveness factor (
η
). The trans-esterification process has been assumed to intrinsically follow second-order kinetics (first order in algae oil and first order in methanol) with a reported value of second-order kinetic constant (
k
) = 0.00255 L/(mol.s). The validity of the developed software has been ascertained by comparing with pilot plant data collected on an experimental bioreactor. Close agreement has been observed between computed and experimental values of process variables/system parameters. Since the performance/design characteristics of the bioreactor have been well-confirmed, it may be recommended, with confidence, for the commercial synthesis of biodiesel from microalgae. Since microalgae can be cultivated in wet waste land and waste aquatics and the oil yield per annum from microalgae is typically 58,700 to 136,900 L per hectare (around 100 times that from
Jatropha curcas
), the potential of the process is extremely bright.