31-10-2019 | Issue 3/2020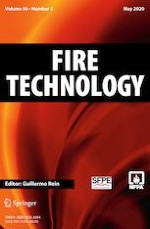 Study of Environmental-Friendly Firefighting Foam Based on the Mixture of Hydrocarbon and Silicone Surfactants
Journal:
Authors:

Youjie Sheng, Ning Jiang, Shouxiang Lu, Qiuhong Wang, Yanli Zhao, Xiangrong Liu
Important notes
Publisher's Note
Springer Nature remains neutral with regard to jurisdictional claims in published maps and institutional affiliations.
Abstract
The application of conventional aqueous film-forming foam (AFFF) has been severely restricted due to the serious environmental hazard caused by the key component, fluorocarbon surfactants. Environmental-friendly fluorine-free firefighting foams need to be developed urgently. In this study, five silicone surfactants are chosen as key component to prepare fluorine-free firefighting foams. The aqueous solution properties of the fluorine-free firefighting foams are studied in details, including surface tension, interfacial tension, spreading property, viscosity and foaming ability. Foam drainage and foam spread on heptane surface are analyzed. Fire extinguishing and burn-back performance of fluorine-free foams is evaluated based on a small-scale standard method. Particularly, fire extinguishing and burn-back performance of a commercial AFFF is also evaluated as a comparison. Results show that fluorine-free foams cannot form aqueous film on cyclohexane surface, no matter whether spreading coefficient is greater than zero or not. Fluorine-free foams exhibit much better foam stability but worse foam spread property than commercial AFFF. Not all the fluorine-free foams containing silicone surfactant performed as well as AFFF containing fluorocarbon surfactant. Only fluorine-free foam containing silicone surfactant of OFX-5211 shows better fire extinguishing and burn-back performance than AFFF. The higher efficiency of fluorine-free foam in fire extinguishing and burn-back should be attributed to the stronger foam stability.